The hydraulic actuated drilling choke is actually a pressure control valve. Its function in the system is to ensure pressure control during drilling operations and during a kick (blowout). The pressure is controlled by modifying the relative position of the control elements, gate and seat, by moving the gate. To achieve this, the choke is fitted with a hydraulic actuator with double acting piston.
During drilling operation it is necessary to know the control element position, the gate, towards the seat. This information is shown at the drilling choke control panel, where the operator stands. The value shown at the panel represents the gate displacement expressed in percents from the maximum value of the gate stroke.
The system which indicates the gate position consist, mainly, in a displacement sensor, LVDT type, attached to the choke stem and the indicator mounted on the drilling choke control panel.
Gate and seat are from tungsten carbide and are reversible for double life period.
Standard orifice size is 51 mm (2").
Inlet-outlet connections are flanges according to API 6A.
Working fluids: water, crude oil, gases, drilling fluids, petroleum products.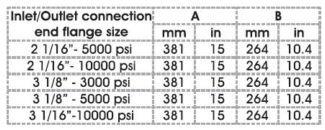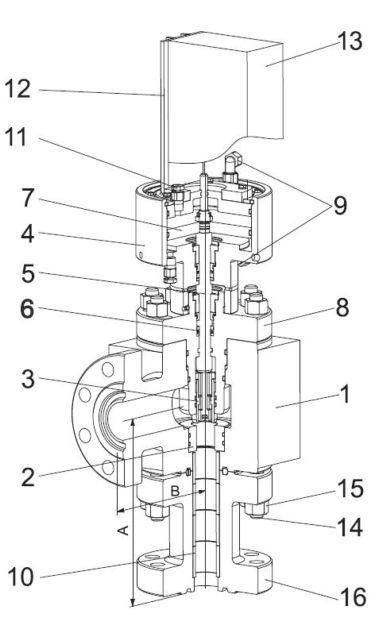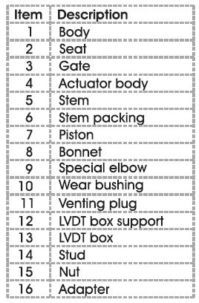 Control Panel
The control panel is an element part of drill choke assembly. The control panel allows the operator to operate the drilling choke during an eruption, in order to maintain the pressure from the casing under maximum value allowable by drilling program.
The panel is fitted with a manual emergency pump which permits direct control of the choke when rig air is lost (or for other reason the hydro pneumatic pump doesn't operate.
The gauges for drill pipes pressure indication and casing pressure indication are provided with vibration dampers, which allow easy and correct readings of the pressure.
Also the control panel is fitted with a mud pump stroke counter.