Stripper (figure 1) is an equipment that completes blowout prevention systems. It prevent the escape of oil or gas while running or pulling tubing under pressure.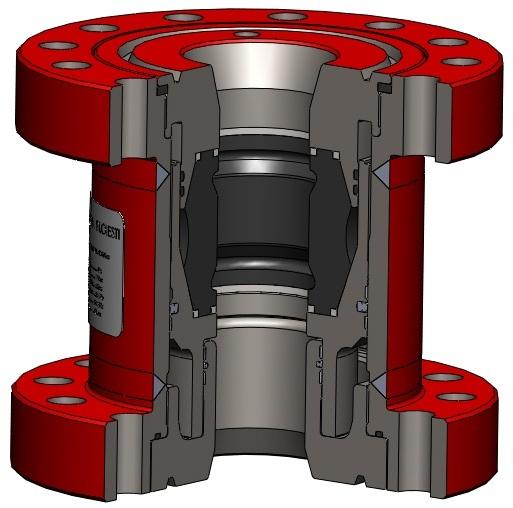 Figure 1
It's special rubber packer allows easy passage of tubing and tubing couplings without leakage. Stripper features a hydraulic actuator which allows the stripper rubber to be compressed quickly and safely without stopping operations. Stripper actuating pressure is 35÷70 bar.
Stripper can be operated using:
- CH6U-3000 psi control unit, or
- handpump.
SPECIFICATIONS
| | |
| --- | --- |
| Stripper type | SH 7 1/16 x 210 / 70 bar |
| Section | Ø102 mm (4 in) |
| Static working pressure | 70 bar (rest of the tubing) |
| Body testing pressure | 140 bar |
| Stripping sealing pressure | min. 35 bar (translational state of the tubing) |
| Flanged connections | 7 1/16 x 210 |
| Tubing size | 2 3/8 – 2 7/8 in |
| Hole sizes for connection to hydraulic control system | Rc 3/8 in |
| Piston closure race | cca.32 mm |
| Total Oil volume for total piston stroke | 2 litri |
| Actuation | hidraulic |
| Overall dimensions : maximun diameter | Ø 380 mm |
| height | 300 mm |
| Weight | 138,5 Kg |
Stripper main parts are:

- body

- upper and lower caps

- packer

- piston

This main parts are shown in figure 2

Figure 2
Handpump hydraulic actuating system (figure 3) consists of:

- PAM-TDS 45 handpump

- 10 liters tank

- hydraulic hoses (Dn 10 x 350 bar – 4 m )

Figure 3