Page 1 of 12
INTEGRATED MANAGEMENT SYSTEM
The UZTEL integrated management system for quality, environment and occupational health and safety "HSEQ", documented by following an logical and systematical approach of ISO 9001 standard, European Directive PED 2014/68EU requirements, enables the best strategy and operational decisions that conduct to the organization efficiency regarding quality, environment and occupational health and safety.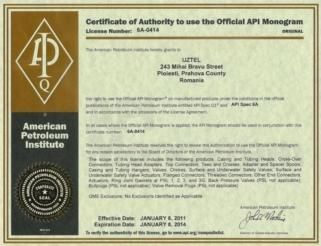 The main advantages of HSEQ System, minutely identified and analyzed by the UZTEL's top management as having beneficial effects for an increased efficiency of the basical activities, are retrieved within the:
optimization of organization processes and activities,
consolidated forecast on further developments;
decrease of negative impact of the organization activities to environment and minimize their risks, without affecting the quality of the supplied products and services.
The customer is not only buying products from UZTEL, but also solutions to his problems!
UZTEL is developing the business, permanently concerned by the improvement of the supplied products and services - delivered as replays to the expectations of all interested parties (customers, suppliers, employees, a.s.o.) and by the completion of the organization portrait with its achieved performances regarding environment and occupational health and safety.
Environment protection is a priority in performing the quality of products and services
UZTEL complies with all standards and legislation for quality - environment - occupational health and safety, applicable to its own processes and activities, by militating to keep the balance between the economical, social and environmental requirements.
The performance is achieved by ensuring a healthy and safety workplace for all.
UZTEL ensures the protection of environment and the creation of a healthy and safety ambience at the working places, in order to supply trust for all interested parties (customers, suppliers, employees, neighbours , authorities, a.s.o.). The members of UZTEL's "family" are and will be aware and stimulated to continue the efforts to maintain in operation and continuously improve the HSEQ System, as a main condition to perform a long-lasting business.

QUALITY MANAGEMENT SYSTEM
By means of the actual production workshops, the existing technical endowments, specialized personnel, its own designing sector, and following-up the quality management system, UZTEL manufactures and delivers reliable products according to the national standards and international norms, strictly obeying all the requirments and terms assumed through the economic contracts.

UZTEL S.A. has production capacities and well-skilled personnel specialized in the field of the oil and gas equipment manufacturing and repairs.

The Company has an integrated production, with self designing abilities improved with high technology, according to the API specifications or the other standards.

The Company has departments of Integrated Management and Quality Control , that beneficiate of modern labs, ensuring the conformity with international standard ISO 9001 and API specification Q1

So UZTEL entitles itself as a technological entity with a high degree of independence and integration and with multiple production capacities.